The Lake Hallie Water Utility provides safe drinking water to the village residents. It meets federal and state health-protection standards. It is regulated by the Public Service Commission (PSC) of Wisconsin, the U.S. Environmental Protection Agency (EPA), and the Wisconsin Department of Natural Resources (WDNR). The Water Department is responsible for the operation and maintenance of the wells, water tower, valves, hydrants, quarterly meter reading, replacement of the water meters, and responding to citizen service requests in a courteous and timely manner.
Water Billing Information
Requests for Special Assessments
Water Customer Change Form Information
Well Permit Information
Public Works Contact Information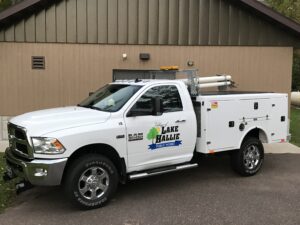 Public Works Working Foreman
Sam Bautch
(715) 559-7019
Water Emergency
Phone: (715) 559-7019
(Examples of a water emergency: Service outages and water main breaks)
Billing and New Water Service Questions
For information on copper in your drinking water please click the Copper in your water Link.
For Information on the Water Rate increase, please click the Water Rate Increase Link.
CCR (Consumer Confidence Report)
This report is now available. You can view the report by clicking the CCR Link.